Diese Veranstaltung hat bereits stattgefunden.
NO!Mozzart – InTheWoods tour live at Unperfekthaus
12. Januar 2018 @ 19:00

-

22:00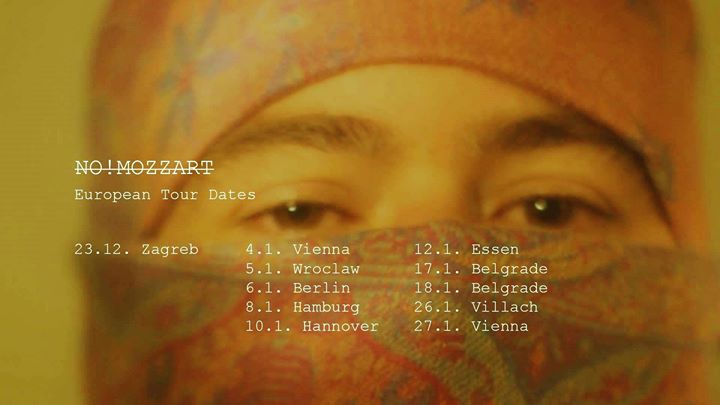 Progressivecrew.com presents No Mozzart LIVE + special guests at Unperfekthaus
as part of the Winter European "InTheWoods" tour presenting the new EP "InTheWoods"
Like punching your face with the MIR Space Station twice!
Join the psycho-post-dub-rock/experimental/Balkan/post-classical/shaman trips/tribal/avantgarde/progressive rock session!
NO!MOZZART
http://progressivecrew.com/nomozzart/
NO!Mozzart, an art rock band from Zagreb, creates a psychedelic melancholic buzz, amplified by extraordinary dub and blues sequences.
The band's diverse musical repertoire, characterized by psychedelia and simple, emotional lyrics, creates a stylistical punch, skillfully blending genres and opening new horizons of pop music.
"Aware of the 21st century, contemporary, original, and completely themselves, this band has no interest in retrospection."
Vladimir Horvat
""NO!Mozzart is not Mozart. No. He is the scream coming from the mental cyber-garage, strange, intimidating, and full of passion…"
Darko Rundek
"On that significant evening at the Museum, I heard a completely different art rock from Croatia, in the likes of the greatest rock musicians, including magnificent Bowie in his Berlin phase."
Vladimir Horvat
"NO!Mozzart: melange of different styles from the psychedelic spectre, reaching beyond rock.
Incubating a million of genres in the explosion-awaiting process.
No, NO!Mozzart is one of a kind, reminding of the genius of Laurie Anderson, The Birthday Party and Steve Jansen, Kraftwerk, Radiohead and Johnny Greenwood's avantgarde works… Progressive/space/post-rock with plenty of experiments and loops."
InTheWoods Tour
Jan 04th 2018 – Replugged, Vienna, Austria
Jan 05th 2018 – Black Moon, Wroclaw, Poland
Jan 06th 2018 – Maze, Berlin, Germany
Jan 08th 2018 – Grüner Jäger, Hamburg, Germany
Jan 12th 2018 – Unperfekthaus, Essen, Germany
Jan 17th 2018 – Chillton, Belgrade, Serbia
Jan 26th 2018 – Jibi's, Villach, Austria
Jan 27th 2018 – Cafe Carina, Vienna, Austria
NO!Mozzart
http://progressivecrew.com/nomozzart/
https://soundcloud.com/no-mozart
https://nomozzart.bandcamp.com/
https://www.youtube.com/channel/UCeUEjX3zgzRuTE-R0lvwTWg
https://www.instagram.com/nomozzart/
https://twitter.com/nomozzart
https://gigmit.com/nomozzart
we are part of Progressivecrew.com – label, PR & booking, events – Balkan & international music scene
http://progressivecrew.com/