Diese Veranstaltung hat bereits stattgefunden.
gamedevs.nrw Meetup – The 2018 Kickoff Edition (01/2018)
27. Januar 2018 @ 14:00

-

17:00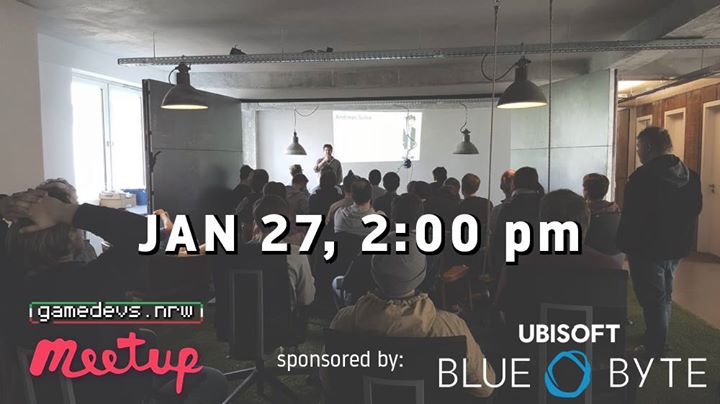 gamedevs.nrw presents:
It's "The 2018 Kickoff Edition". First Meetup of the year. Sadly, since other dates are already booked, this Meetup will take place during the global game jam.
The program for our presentation sessions part:
This month, the Flying Sheep from Flying Sheep Studios will tell us about the studio's new game "Knights of Fortune" and their production process behind it. This talk has several layers to it, so you will learn important points about project management from studio co-founder Thomas first, before concept artist Carlos will talk about his (you guessed it) concept art, UX designer Sylvia will detail her work on the menus and game artist Casi will cover her take on the game's 3D models and artstyle.
Their showreel can be found here: https://youtu.be/m9gbfI_jEdI
——————————————————————————————-
To make planning easier, please RSVP here or over on MEETUP·COM
——————————————————————————————-
About:
One more month, the Game Developers of NRW assemble!
No matter if you are a game designer, an artist, a programmer, a business person or something in between; no matter if you are working in a big studio, running an indie outfit, are a student, a hobbyist or someone who is just about to get started with game development and is looking for advice – you are welcome to join us at every last Saturday of the month!
Meet other people, exchange thoughts and ideas, get inspiration and inspire others!
The concept of our monthly meetups is simple:
• INTROS:
A quick round of introductions where you tell the rest who you are and what you are doing.
• NEWS & ANNOUNCEMENTS:
Anything of interest what is going on in Gamedev-NRW and beyond.
• RECRUITMENT:
If you are looking for a job, got a job to offer, are looking for help or want to offer help, or if you are looking for project-collaborations – this is your time to speak up.
• PRESENTATION SESSIONS:
A couple of talks and / or project demos in front of everyone. Anything goes, as long as it is related to game development. A talk is roughly 20 to 30 minutes while a project presentation is 10 minutes. If the audience is hooked, extensions are in order.
• MINGLING, SHOWCASING, CHATTING, NETWORKING:
After the talks, you can stick around until 5 pm. Grab a drink (free and generously sponsored by Ubisoft Blue Byte), have a chat. If someone brought something to show to the others, look at it. Play it. Give them feedback. And if you brought something, just set up your laptop and show it to the others. Be inspired, inspire others and just have a good time!
We would like to thank our sponsor Ubisoft Blue Byte for making this event free to attend and sponsoring drinks.
• What to bring
Feel free to bring what you are working on! This community depends on exchange and inspiration!
If you recently made a game (not matter if gamejam game, small prototype or full scale production), bring it along and maybe also a laptop. We have much space available for you to set up your game after our program part and showcase your game. Others will gladly give you feedback.
Artists, bring your portfolio, so you can show it to others! Maybe someone would like to work with you in the future.
• Important to know
Our venue is the Super7000 in Düsseldorf-Derendorf. We are on the 3rd floor (2. OG, if you prefer the German nomenclature). You can park in the courtyard and there are many other parking spaces available in the surrounding streets.
Please tidy up after yourself (return your beverage bottles into the kitchen).