Diese Veranstaltung hat bereits stattgefunden.
gamedevs.nrw Meetup – Game Arts Workshop Special Edition (04/18)
28. April 2018 @ 14:00

-

17:00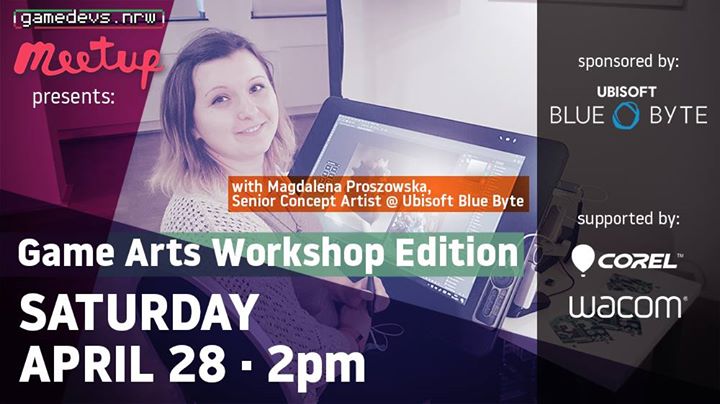 gamedevs.nrw presents:
A special edition of our meetups – The Game Arts Workshop Edition
Hosted by Magdalena Proszowska, Senior Concept Artist at Ubisoft Blue Byte, sponsored by Ubisoft Blue Byte and supported by Corel and Wacom
Magdalena has an outstanding track record in the games industry, working for Huuuge Games before joining Ubisoft Blue Byte. She recently created the cover artwork for Corel Painter Essentials and occasionally teaches game arts at universities such as the Cologne Game Lab. You can find her ArtStation page here: https://www.artstation.com/magdaproski
For this Meetup's special edition, Magda will do a hands-on workshop session, demonstrating her approach to creating game art assets, her usage of software and will happily answer any questions you might have regarding game art or how it is to work as an artist in the games industry. During the mingling part afterwards, she will happily look at any art portfolios you bring. So, to say it again: ARTISTS, BRING YOUR PORTFOLIOS WITH YOU!
But wait, this is not all! Corel gratiously gave us a license of Corel Painter to give away as a prize. Keep an eye on our Facebook page ( gamedevs.nrw ) for more information on how you can enter to win.
So, if you are studying game arts or are interested in creating art assets for your game projects – you should make sure to join us on Saturday, April 28.
This event is completely free to attend, thanks to our sponsor Ubisoft Blue Byte.
——————————————————————————————-
About:
One more month, the Game Developers of NRW assemble!
No matter if you are a game designer, an artist, a programmer, a business person or something in between; no matter if you are working in a big studio, running an indie outfit, are a student, a hobbyist or someone who is just about to get started with game development and is looking for advice – you are welcome to join us at every last Saturday of the month!
Meet other people, exchange thoughts and ideas, get inspiration and inspire others!
• What to bring
Feel free to bring what you are working on! This community depends on exchange and inspiration!
If you recently made a game (not matter if gamejam game, small prototype or full scale production), bring it along and maybe also a laptop. We have much space available for you to set up your game after our program part and showcase your game. Others will gladly give you feedback.
Artists, bring your portfolio, so you can show it to others! Maybe someone would like to work with you in the future.
• Important to know
Our venue is the Super7000 in Düsseldorf-Derendorf. We are on the 3rd floor (2. OG, if you prefer the German nomenclature). You can park in the courtyard and there are many other parking spaces available in the surrounding streets.
Please tidy up after yourself (return your beverage bottles into the kitchen).