Diese Veranstaltung hat bereits stattgefunden.
Artificial Intelligence and The Internet of Things
15. März 2018 @ 19:00

-

20:00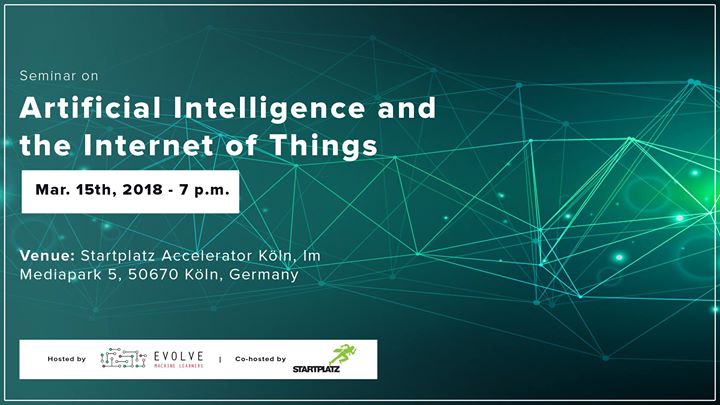 AI is playing a starring role in IoT because of its ability to quickly wring insights from data. Machine learning, an AI technology, brings the ability to automatically identify patterns and detect anomalies in the data that smart sensors and devices generate. Information such as temperature, pressure, humidity, air quality, vibration, and sound. Companies are finding that machine learning can have significant advantages over traditional business intelligence tools for analyzing IoT data, including being able to make operational predictions up to 20 times earlier and with greater accuracy than threshold-based monitoring systems.
Artificial Intelligence and Machine Learning are taking the world by storm. The biggest companies in the world (Google, Microsoft, Amazon, Facebook etc) and start-ups (Grammarly, Wineta, etc) are now using AI & Machine learning to make predictive decisions and create more personalized experiences in their products and services.
Now is the time to break into the future of work, products, and services: AI and Machine Learning!
You'll also learn more about how Startplatz and Evolve Machine Learners have partnered to offer part-time "AI" & machine learning courses to the Cologne market. Learn how EML is making a marketplace for their students and "how students benefit from growing their technical skills and their network"
Take the first step towards becoming am "AI" & machine learning engineer and join us for the AI and Machine Learning info session.
Date: March 15th, 2018
Time: 7pm
Venue: Startplatz Accelerator Köln, Im Mediapark 5, 50670 Köln, Germany